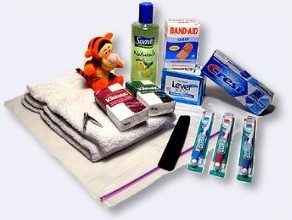 Pastor Judy is collecting items needed to fill 10 crisis care kits. Please bring the items to the church and place in the box in the foyer. Thank you for helping those who have been devastated by natural disasters.
Here is the shopping list for the Crisis care kits: Please make note of the sizes, as everything must match exactly to be put in the kit.
2 bars of soap–bath size or larger
1 toothpaste–4 to 6.4 oz.
3 toothbrushes–in original packaging
1 box of bandaids–30 or more
4 pocket-sized packages of kleenex
1 beanie baby-sized stuffed toy.
Place all items into a 2-gallon zip-lock bag.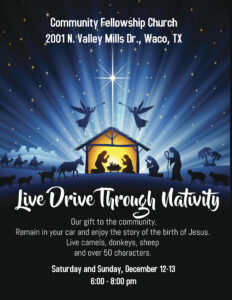 The Annual Live Drive Through Nativity is back!
December 12 and 13th from 6 pm – 8 pm. Share with your friends and neighbors! This is our gift to the community. Watch for sign-ups to participate in the event.