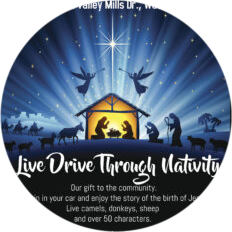 December 11 and 12 6 pm – 8 pm
Saturday and Sunday nights
We are excited to again share our Annual Live Drive Through Nativity with the city of Waco and surrounding areas.
Live animals (camels, donkey, and sheep) and over 50 characters bring to life the story of the birth of Christ. From the comfort of your car, a 15 minute drive takes you back to that joyous event that has changed millions of lives.
Don't miss this event! Share with your friends and neighbors and remember the real meaning of the Christmas season.