Women's Monthly Bible Study
All women are invited to join us in the Fellowship Hall as we learn a new recipe and have a time of Bible study and fellowship.
Ash Wednesday Service
We prepare our hearts and minds for the Lenten season that precedes Easter.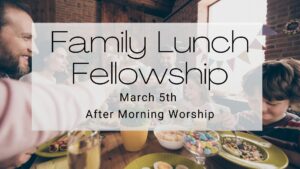 It's time for an all-church fellowship and you can't do that without food! Make plans to stay and enjoy great food together in the Fellowship Hall after morning service on March 5. Last names A-L baring a dessert and meat dish. Last names M-Z bring a meat dish and salad or vegetable.