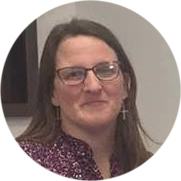 A Note From Our Director
My name is Karrie Horn and I am so excited you are interested in Kingdom Kids Day Care and Academy. It is our mission to provide a safe, loving and definitively Christian child care experience for all children two to four years of age. We provide a warm, loving environment where children feel safe, secure and happy. Our staff members are carefully screened and trained in early childhood education. Kingdom Kids Day Care and Academy is licensed and adheres to the highest standards of security, safety, cleanliness and teaching.
Children have been part of my life for 21 years. In 2007, I began as a classroom teacher in a local day care. I am a continuous learner and made a pledge to continue to better myself as a teacher and providing helpful insights into the different needs of children. I understand that your child is a precious gift from God and look forward to working with you, developing a positive relationship in which we work together to build strong children who know they are loved and important.
We are using ABC Jesus Loves Me curriculum to teach not only subjects to help your child be ready for Kindergarten, but also about God's love and grace through Bible stories, memorizing scriptures, and music. We prepare the environment to offer stimulating, challenging material and activities. Every day we work to make education fun.
Our goal is to provide excellent child care at affordable rates to our families. We work in partnership with parents and families to build mutual understanding and always welcome your participation.
Thank you for trusting us with your little ones. If you have any questions, please feel free to contact me. We thank you for choosing our center and look forward to a successful start in your child's development.
Karrie Horn, Director
Kingdom Kids Day Care and Academy
254-224-6372